Music & Variety Christmas Radio Shows


Music is one of THE most important parts of Christmas. Where would we be without Rudolph the Red-Nosed Reindeer or how would we remember to be good without the the lyrics to Santa Claus is Coming to Town? It just wouldn't be the same. Old-time radio music shows included these favorites, Meldoy Ranch, Glenn Miller, and many more. The Christmas radio variety shows included music and funny sketches. There were many, many music shows like Kraft Music Hall and variety shows include recognizable names like Bing Crosby, Bob Hope, plus way too many more to include.
Created as a vehicle to promote Kraft products, Kraft Music Hall was on the air for 38 years so that's at least 37 Christmas shows. The show featured several hosts like Paul Whiteman, Bing Crosby, Al Jolson and Nelson Eddy and featured the John Scott Trotter Orchestra playing the music. Christmas music was the order performed by many famous singers of the day.

"Miracle on 34th St"
compliments of Old Time Radio
Bing Crosby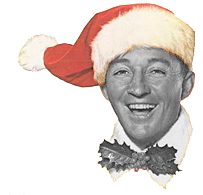 When you think of Christmas, one thing that probably comes to mind is Bing Crosby singing White Christmas. Crosby starred in many musical variety shows including Kraft Music Hall, The Chesterfield Show, and Philco Radio Time. These shows featured Crosby as host and participant in funny sketches. All of these old-time radio shows featured Christmas themes and Christmas music. Rosemary Clooney and Crosby recreated their magic frequently on air including the fabulous "White Christmas".

"Miracle on 34th St"
compliments of Old Time Radio
See also: Christmas Sing with Bing.