Western Christmas Radio Shows


Spurs are jingling in the in the desert at Christmas time just like Santa's. Not to be out-done by the likes of The Great Gildersleeve or Johnny Dollar,the cowboys of the airwaves celebrated Christmas, too in their own Christmas Westerns way! Dr. Six-Gun and The Six Shooter both celebrated Christmas on the open range and you know that t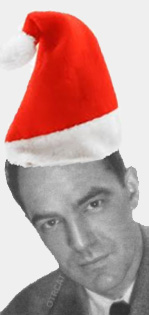 here was a good old time at Gene Autry's Melody Ranch.
With his medical bag on one hip and his six shooter on the other, Dr. Six-Gun made his way across the territory treating people when necessary and taking care of bad guys with his gun when necessary.  At Christmas, the good doctor Ray Matson treats a young boy who is very sick after staying out all night looking for the only thing his family has left of value after his father was killed in a dispute over a watering hole, his families sheep. His grandfather promises him a white pony for Christmas becausehe can't walk. What happens when the grandfather goes looking for a white pony? Will the boy get better?

"Pony for Christmas "
compliments of Old Time Radio

Six Shooter
Jimmy Stewart starred as Britt Ponset, the Six Shooter. Ponset found himself in all kinds of situations from funny to dangerous. At Christmas, he found himself in a very different situation. Meeting a young orphan boy who was running away from home, he tells him Britt Ponset's Christmas Carol, a western version of the famous story. It's a very entertaining version of the show.

"Western Christmas Carol "
compliments of Old Time Radio
Melody Ranch
At Melody Ranch, there was music, drama, fun and plenty of action. Gene Autry, America's favorite singing cowboy, had several Christmas shows from Melody Ranch. Featuring a Christmas Party with music and a story his little neighbor Susan who lived with her bitter grandfather who told Susan that Santa doesn't visit kids way out in the west. Autry wants to help resolve the situation and bring the Christmas Spirit to Susan and her grandfather.

"Here Comes Santa Claus "
compliments of Old Time Radio
See the Old Time Radio Western Christmas Collection for great shows!