News and Quiz Shows


There are many old-time radio Christmas shows that are related more to historic radio news or current events at the time. These shows include President Franklin Delano Roosevelt's Fireside Chats or Quiz Kids.
Fireside Chats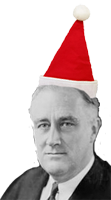 During his four terms, President Roosevelt presented a total of 30 radio broadcasts, termed Fireside Chats. It was his way of using radio to reach the people of the nation, to come into their homes personally since the president is not the most accessible person. During his chats he talked about many topics from supporting banks to updating the nation on the progress of World War II. His fireside chat from Christmas Eve 1943 was an update on a meeting between the allies, the Tehran Conference and contained a Christmas message on behalf of the American people at home to the men and women serving in the armed services.

"Lighting Christmas Tree" from FDR Fireside Chats
compliments of Old Time Radio
Quiz Kids
Quiz Kids was a popular quiz show with kids as the contestants in the 1940s. Listeners sent in questions and they were researched by the show staff. The show was hosted by Joe Kelly who was great with the kids. Kids were chosen for their high IQs using questionnaires distributed to schools beginning in New York. The shows had guest stars and themes plus holiday shows. There were also Christmas themed shows like "There Really is a Santa Claus" and "Christmas Party".

"Santa Claus" from Quiz Kids
compliments of Old Time Radio